FEAST OF SAINT MICHEAEL THE ARCHANGEL
This event, held in Montecelio during last Sunday of September in honor of St. Michael the Archangel, has replaced the other one, much older, in honor of St. Anthony Abbot, as the Curia decided that it be celebrated in January.
The feast of St. Anthony Abbot took place in September and underlined the lull in agricultural work before the harvest. it was, in general, organized by one or more "horsemen" that, as a result of the abundance of the harvest, in their houses offered to visitors (who came for "u basu" (a kiss) to the foot of St. Anthony, "u tocciu") a piece of donut and a glass of wine. So the party, as often happens, mixed pagan elements, linked to agricultural moments, with Christian and religious ones. In addition to the horsemen, the committees were often formed by "fossanti" (workers in the travertine quarries) .The present festival was dedicated to St. Michael the Archangel because the holiday period coincided with the anniversary of the Saint (29 September) and was maintained as it is now, to run the traditional parade of "vunnelle" costume, impossible to carry out in the cold January.
The main event of the celebration is just the "Vunnelle" parade, run on Sunday

morning. The Vunnella is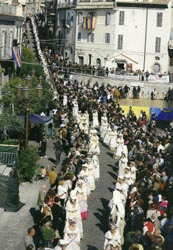 the ancient costume worn by Montecellesi women during holidays. In addition to religious services (Mass Triduum and moments of meditation such as the Mass in memory of the fallen of war), are eagerly awaited moments of folklore and popular type (band, shows, and fireworks). In addition to these initiatives, since many years as part of the festival, however, and depending on the choices made by the various organizing committees,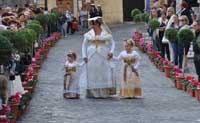 there is an ongoing attempt to recover all that constitutes the culturaland social heritage: the theater in dialect, poems collections, songs, the reissue of the texts of local history, archaeological research, painting and photography exhibitions are all moments to rediscover the common Montecelio inhabitants' roots.